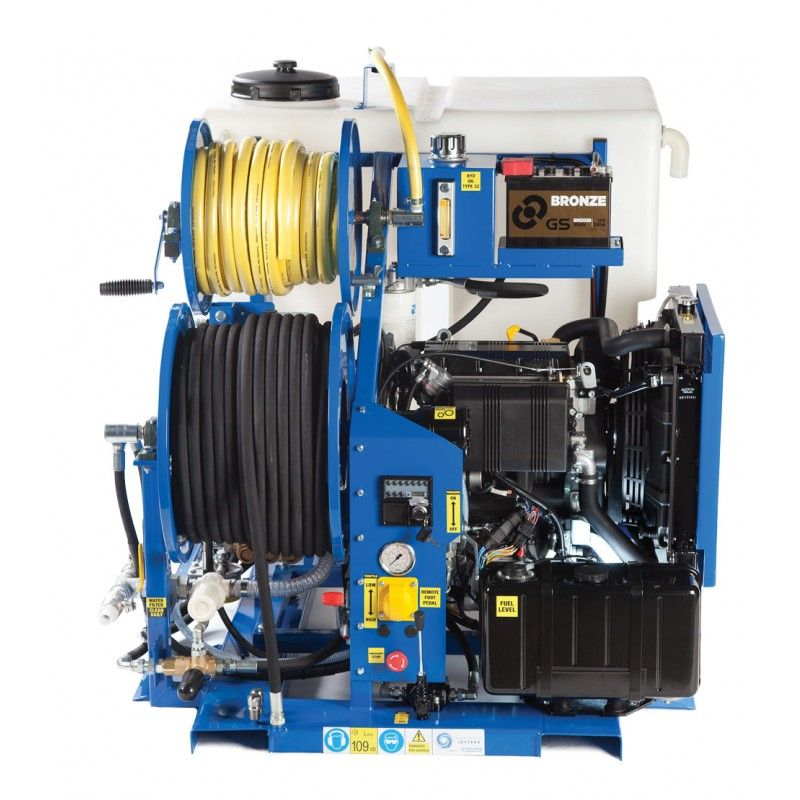 Key Features
3000psi @ 9GPM (200 BAR @ 40LPM)
(other performance options available)
24HP 3 Cylinder Diesel (Lombardini Kohler LDW1003)
Triplex Plunger Pump
Hydraulic Drive HP Reel
Optional 5 Channel Radio Remote
The V-Pack 2 Series is a cost-effective solution for operators seeking a high-performance jetting machine with a great range of features. Compact and lightweight it is very popular with small and large scale operators alike due to its comprehensive specification and low cost.
LOW WEIGHT, HIGH PERFORMANCE DRAIN JETTER
The Van Pack 2 Series drain jetter is a fully featured machine with a powerful 24HP diesel engine, hydraulic drive HP reel and integrated filling reel. Single user operation can be added in the form of a radio remote control system or a hard wired foot pedal.
The V-Pack 2 Series can be installed into almost any commercial vehicle and is ideally suited to domestic and light commercial work. We can supply a complementary range of accessories for drain and surface cleaning, fat and grease removal as well as descaling. With a dry weight of only 395KG it is one of lightest machines in its class.
The V-Pack 2 Series drain jetter is also available in 'Stack' configuration for use in dual purpose vehicles