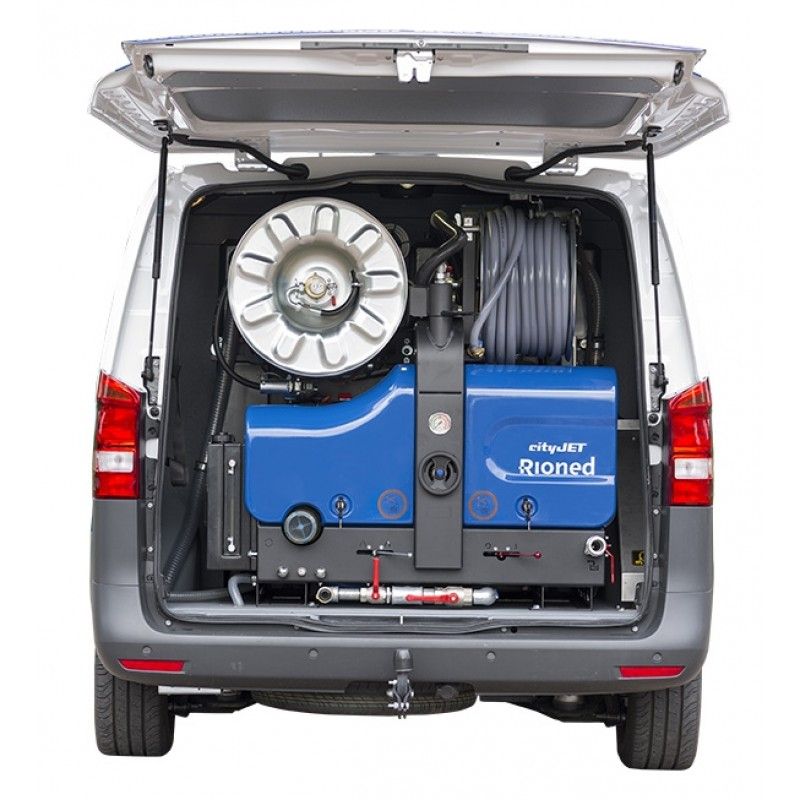 Key Features
Designed for MB Vito and Sprinter
Low maintenance
Various pump capabilities depending on vehicle power
Low noise
Swiveling hydraulic hose reel
The CityJet PTO (Power Take-Off) is driven by the engine of the vehicle in which it is placed. A sophisticated hydraulic system reduces the power of the vehicle-driven shaft to allow the high-pressure pump to do its job, so there is no longer any need for a separate combustion engine of other motor.
Installed in a new van, this drive meets all legal environmental requirements
Download Rioned CityJet PTO Brochure
CityJet PTO
A CityJet PTO can be built into a Mercedes Benz Sprinter (3.5 or 5 tonnes) that is equipped with the Mercedes PTO factory options. Customers who often work in multi-level car parks can also choose the low clearance Mercedes Benz Vito. The drivetrain of this van includes a transfer case that provides direct power. The CityJet PTO is equipped with Riomote control and eControl+ operating panel. The machine is supplied as standard with two 300-litre water tanks, a 135° pivoting reegl with mechanical freewheel, 80-metre MaxFlow HP hoses and a filling reel with 50 metres of NW19 hose. A CityJet PTO with PTO drive in a EURO-6 van meets all environmental regulations. The total weight is lower than that of a machine with combustion engine. The noise level is lower than that of a machine with a combustion engine, which is a great advantage when working at night, for example.